Restaurant owner discovers that eating right
works better than taking medicine
Wen Raiti, the owner of "House of Leaf and Bean" in Jacksonville, Florida, has a unique testimony of going vegan order to overcome tummy troubles. At the time, she was desperate for relief from Irritable Bowel Syndrome (IBS,) bloating, acid reflux and weight gain. Wen felt like indigestion was ruining her life. She didn't have the energy that she once had.
"I moved to America from Saipan, which is part of the Northern Mariana Islands in the Western Pacific. What I was eating in Saipan was different from what I was eating in America. That was the problem!" said Wen.
Back in Saipan, she was eating natural plant-based foods, grown in local soil. Here in America, Wen was eating a lot of fast food, packaged food and convenience food.
She decided to return to her roots, and start eating healthy, plant-based food again. To her surprise, Wen discovered that eating rice, grains, beans, vegetables, and fruit food was also cheaper than animal products.
"Tofu is the king of beans, and contains more protein than meat. I cut down on meat to save money, and it also helped to improve my IBS condition. Ever since, I enjoy eating and creating plant-based vegan foods," said Wen.
"I learned to cook and prepare foods differently, without animal products. Now veggies, soymilk, Tofu and plant-based foods are on my plate," she explained.
By changing her eating habits, Wen felt better and her digestion improved. She no longer needed the medicine the doctor prescribed for IBS. Plant-based food had replaced her medicine. Ultimately, eating the right foods was better for her than taking medicine.

She also learned how to make Asian foods that are a part of her Chinese heritage, such as homemade soy milk and tofu.
"My first batch of Tofu was not good, but I did not give up. I asked my neighbors to be my taste testers. Their feedback helped and enabled me to try different things, until I finally perfected the recipe," said Wen.
Eventually, Wen and her husband Jonathan opened House of Leaf and Bean restaurant as a labor of love. They wanted to share what they learned with the community.
"We strive to provide plant-based meals that are affordable, accessible, fresh and delicious. It is not enough to sell Tofu. We want people to try Tofu that is deliciously prepared, so that they will have a good experience and make this a part of their lives," said Wen.

Healthy food that tastes good
If you're ever in Jacksonville, check out the "House of Leaf and Bean." They offer a diverse menu, from appetizers such as Crispy Tofu Bites to Handmade Golden Dumplings to Bahn Mi Sandwiches, vegan pizza, rice and bean bowls, and bountiful salads.
The restaurant is one of the few Tofu producers in America, and the only commercial Tofu producer in the South. The House of Leaf and Bean makes fresh premium Tofu made from traditional Chinese recipes. They serve the Tofu in their entrees and also sell it by-the-block. Yes, some folks like it so much that they actually buy blocks of Tofu to take home.
The restaurant also makes weekly meals for participants in the Dr. Dean Ornish program, through the Synergy Lifestyle Center. The meals are healthy and delicious, plant-based vegan, prepared with minimum oil and low sodium.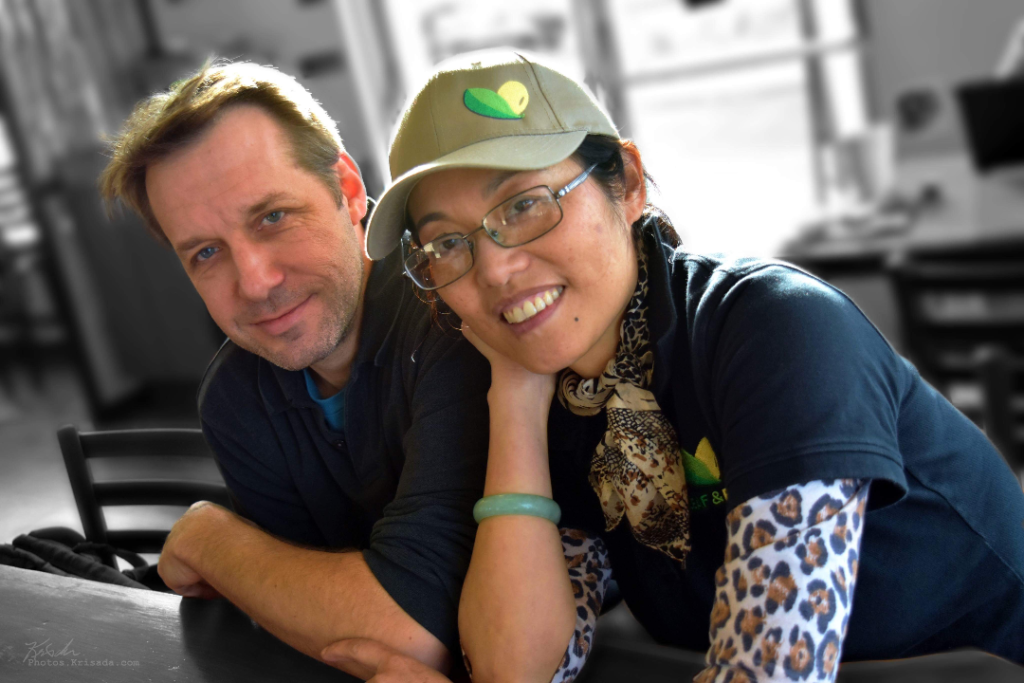 What is Tofu?

Tofu, also known as bean curd, is a highly versatile and nutritious food that is made from soybeans. Making Tofu is similar to making cheese. Dried soybeans that are soaked in water, crushed, and boiled. The mixture is blended and separated into solid pulp (okara) and soy milk. Salt coagulants are added and the mixture is pressed into solid white blocks of varying softness.
Tofu is a protein that can be used as a meat substitute. Firm or extra firm can be used for pan frying, baking, braising, and making Tofu filets. The firm or extra firm texture holds its shape, yet absorbs the flavors of the sauce or marinade that you're cooking with. Soft Tofu is used for pudding, custards, vegan cheeses, sauces, gravy, dips, and healthy shakes.
Tofu is plant-based, which makes it an ideal food for vegans, vegetarians and anyone who is intolerant of dairy products.
Origins of Tofu
Tofu was introduced to America in the 1800s. Chinese immigrants traveling to California during the Gold Rush made homemade Tofu. Their recipes for Tofu became popular when Chinese immigrants traveled to other parts of the country. After World War II, the demand for Tofu and other Asian foods increased, as military personnel returned from Asia, some with Asian spouses. By the 1900s, soybeans were used for animal feed, producing vegetable oil for cooking and manufacturing purposes. By the 1950s, American produced as much soybeans as Asia. In the 1990s, American has become the largest soybean producer in the world, providing about two-thirds of the global supply.
During the 1970s, grocery stores began to offer more ethnic foods, including Tofu. At the same time, beef and chicken became more expensive. Americans started using Tofu as a substitute for meat, as it is high in protein and low in saturated fat. Tofu also contains zero cholesterol, making it a good choice for your waistline and wallet.
What does Tofu taste like?
Tofu takes on the flavor of whatever you prepare it with. Some people say that the texture of Tofu reminds them of eggs. It looks like a white cube or sponge. By itself, Tofu tends to taste bland. However, Tofu absorbs the flavors of your sauce, gravy, juice or marinade– which makes it a flavorful, easy to prepare, tasty and versatile protein. Tofu can be savory, sweet, crunchy, soft or firm. It can be used in different ways in various recipes.
What are the different types of tofu?
Tofu can be silken, soft, firm, or extra firm. The firmer the Tofu, the more spongy it will be, and the less water it contains. There is also packaged Fried Tofu, Inari Tofu Pockets, and Baked Marinated Tofu.
Silken and Soft Tofu
This type of Tofu has a smooth texture, which allows you to blend it into a custard, dip, sauce, smoothie, soup, pudding, or dessert. Silken Tofu is perfect for making vegan mayonnaise. This type of Tofu is soft, smooth and creamy. Soft or silken Tofu is the perfect base ingredient for vegan cheesecakes or pie filling. You can blend silken Tofu to make fancy desserts. You can even create a mock whip cream or cake frosting by whisking it with powdered sugar and vanilla.
Hiyayakko is a classic Japanese side dish that is tasty and easy to make. The dish consists of silken Tofu served at warm, cold or room temperature with grated ginger, scallions, bonito flakes (katsuobushi,) and a splash of soy sauce. Silken Tofu has a delicate taste and flavor, and adding small amounts of ingredients with stronger flavors makes it taste deliciously savory.
Firm and Extra Firm Tofu
If you are looking for a Tofu that can be used in a variety of ways, the Firm or Extra-Firm Tofu is very versatile. You can fry, grill, saute or bake it. You can cut into cubes or a longer, rectangle shape– also called Tofu Fillets or Tofu Steaks. You can shred Tofu and add spices (such as turmeric, paprika, garlic powder, and Black Salt) to make a vegan version of scrambled eggs. You can also use Firm or Extra Firm Tofu raw in a salad or wrap. You can make extra small cubes and add them to your Miso Soup.
Firm or Extra Firm Tofu has a dense, spongy texture and holds its shape well. If you're not sure what kind of Tofu to buy, Firm or Extra Firm Tofu is always a good choice.
Fried Tofu
Sometimes you can find packaged Tofu that has a crispy fried coating. All you need to do is warm it up in your air fryer or oven. Or toss it into your skillet with some vegetables and sauce for an easy stir-fry. It's also good on sandwiches and in wraps.
Inari Tofu Sushi
At asian grocery stores, you can find fried Tofu Pockets (called "Abura Age") soaking in a seasoned soy sauce mixture. This is used to make Inari Sushi. You cut the Tofu pockets in half, and stuff them with sticky sushi rice. Then you can top the tofu pockets with steamed vegetables, edamame, pickled radish, furikake or seaweed salad. It is very refreshing and served with white sauce for dipping. Inari Tofu pouches are perfect for a packed lunch that you could take with you to work or a picnic.
Baked Marinated Tofu
These blocks of Tofu are baked and packaged in a vacuum sealed package. They are ready to enjoy hot or cold, straight eat out of the package. It comes in a variety of marinade flavors such as Teriyaki, Sesame Ginger, Kimchi, or Chipotle. Enjoy Baked Marinated Tofu on salads, sandwiches, and stir-fries. It is an excellent source of plant-based protein, with 28g protein per 7oz package.
3 tips for better tasting Tofu
As we've mentioned, Tofu is great at absorbing flavors. It takes on whatever spices, seasonings or marinade that you use. If you are trying to make your tofu taste good, remember to press out the water, marinate it and season it.
Press out the water
Most Tofu comes packaged in water, so you will need to drain it. The water inside of Tofu can prevent it from absorbing flavor. Aim for dry Tofu, so that it absorbs your flavors like a sponge.
Pressing your Tofu will make it firmer and more dense, so that it will absorb the flavor from the spices, seasonings or sauce that you're cooking with. You could use a Tofu press (sold in Asian stores or online) or something heavy, like a stack of plates. It also helps to use paper towels or a soft cloth to absorb the excess water.
Some people freeze their Tofu after draining out the water. The next day, you can thaw the Tofu and drain out the water again. This is useful when you want your Tofu to have a meaty, chicken-like texture.
Marinate it
Marinating your Tofu in a sauce enables your Tofu to soak up the flavor. It's recommended that you marinate their Tofu for 15 minutes or more. You can also prepare your marinade, add Tofu, and set it aside to soak while you prepare the rest of your meal.
Season it
If you don't want to marinate, you can use dry spices to make your Tofu tasty and delicious. Add some Himalayan Pink Salt, Garlic Powder, Poultry Seasoning, Paprika, Bragg's Liquid Aminos, Coconut Aminos, Soy Sauce, or Sweet Chili Sauce.. A little spice goes a long way and helps you to make delicious, flavorful, and mouth-watering Tofu. If you can learn to make yummy Tofu, then you won't miss the meat!
Are you like "Sam-I-Am?"

When it comes to trying tofu, are you like the Dr Suess' character, Sam-I-Am? He refuses to eat Green Eggs and Ham. He's never tried it. When challenged, Sam-I-Am takes a bite of Green Eggs and Ham. All of a sudden, he likes it. Now Sam-I-Am wants to eat this food everywhere, in a variety of ways. He discovers that the food he avoided is one of the most delicious foods around.
If you're new to tofu, we encourage you to try it. Like Sam-I-Am, you might fall in love with Tofu. You might realize that the Tofu you've been avoiding is one of the most delicious, savory and versatile foods around. You might want Tofu– here, there and everywhere.
Don't be shy about Tofu
"I meet people all the time who have never tried Tofu before. There's a first time for everything, and there's no need to be shy. I encourage everyone to try Tofu, and see if you like it. I rarely meet anyone who doesn't like Tofu, especially when it's deliciously prepared" said Wen.
If you want to play it safe, try Tofu at a restaurant first. It's offered at most Asian restaurants. Check out your local Chinese, Japanese, Thai or Vietnamese restaurants. If you find a Tofu dish that you like, you could look online for the recipe and make it at home.
Wen Raiti's House of Leaf and Bean offers Tofu prepared in a variety of ways. Try a Tofu "Egg" Salad Sandwich, Tofu Scallion Pancakes, Tofu Dumplings, Tofu Veggie Sandwich, or Tofu Stir-Fry with Veggies and Rice.
"When I first got married, I wasn't a good cook. It was a lot of trial and error. I encourage everyone to experiment with different Tofu recipes. I was inspired by the meals that my mother-in-law made, as well as the food I had growing up. Both are a reflection of what we make at the restaurant," said Wen.
Bottom line: Tofu is a simple, versatile plant-based protein that can be used as a meat substitute in a variety of ways. If you've never tried tofu before, you don't know what you're missing. Try Tofu at your local restaurant or experiment with Wen's Tofu recipes featured on our blog.